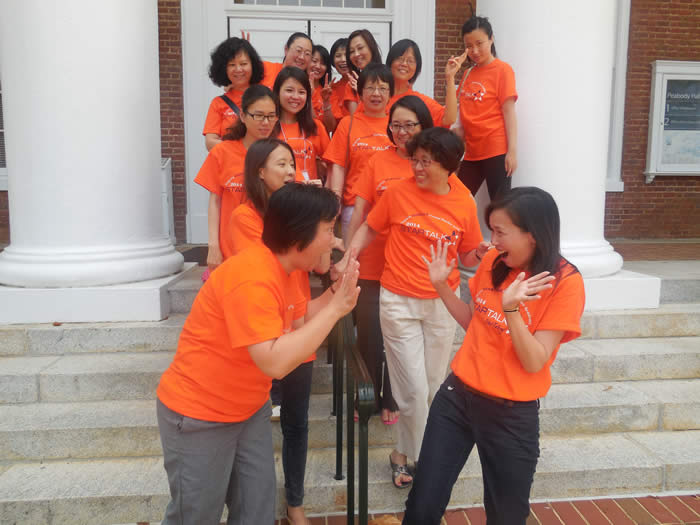 The instructors and admin dedicated months to the planning and executing of the Virginia STARTALK program here at UVA this year.

Director and Key Trainer
Dr. Miao-fen Tseng (曾妙芬)
Dr. Tseng is the director of the Institute of World Languages and an associate professor of Chinese in the Department of East Asian Languages, Literatures and Cultures at the University of Virginia (UVa). Since 2008, she has served as the director of the Virginia STARTALK Chinese Teacher Academy in partnership with the Virginia STARTALK Chinese Student Academy at UVa. She has also actively played different roles in the development of AP Chinese since 2004, including, but not limited to, AP Chinese consultant and academic advisor for AP Chinese and Japanese course audit. Numerous K-12 and heritage school teachers have benefited from her professional experience and obtained TCFL certificates or graduate-level credits to launch and advance their careers through different types of professional development events and programs in the US and abroad. As a passionate and visionary Chinese language educator, she has actively promoted Chinese language and culture nationally and internationally and is the founder and president of the Chinese Language Teachers Association of Virginia (2009-2013) and a member of the CLTA Board of Directors. Her Intermediate Chinese course was recognized as one of the top ten undergraduate Chinese language courses in a nationwide study of Chinese courses completed by the Educational Policy Improvement Center in Oregon. She also received the Ron Walton Presentation Prize in 1998 and the Jiede Empirical Research grant in 2005 awarded by the Chinese Language Teachers Association (CLTA). She is also the author of numerous articles and three books: AP Chinese Language and Culture Teacher's Guide, Promoting Professionalism in Teaching AP Chinese (推动专业化的AP中文教学), and The Handbook for Tasks and Rubrics for Teaching Mandarin Chinese (to be released in 2014).
Guest Teacher Trainer
Dr. Ruth Ferree
Ruth Ferree taught high school foreign language (French), English and directed high school plays for 23 years before studying brain development and function with language to earn her PhD from the University of Virginia. She worked in neuropsychology labs at the UVA Medical Center for two years. She is now on the Teacher Education faculty at the Curry School, where she is affectionately known as "the brain lady." Her presentation, "Brains and Language: What we know now," was voted best of the Southern Conference on Language Teaching and was presented at the ACTFL National Conference in 2006. Currently, her research interests are focused on teacher development with an observation tool called the Classroom Assessment Scoring System (CLASS). Her most pressing project is to get Virginia approval for a teacher preparation program in Mandarin for Teacher Education at Curry.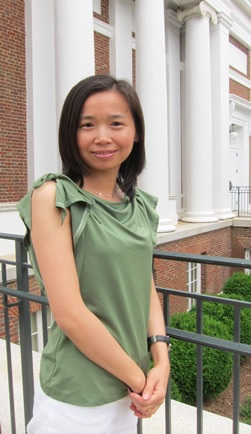 K-12 Master Teacher & Co-Trainer
Yaching Hsu Kelkis (徐雅菁)
Ya-Ching Hsu-Kelkis is a returning teacher of the 2011 program and has served as the master teacher of the VSCTA program since 2012. She works closely with the practicum facilitator, Alice Lin, to ensure well-sequenced and effective curricular planning and implementation during practicum. She holds an M.A. degree in teaching Chinese as a foreign language granted by Middlebury College and is currently teaching at the Chinese American International School. She has taught Chinese as a foreign language and ESL for approximately 10 years in the US and abroad and specializes in creating an enriched Chinese immersion environment for students to learn with a fun and meaningful focus on higher order thinking skills. She has participated in many professional development programs focused on Chinese language proficiency, assessment and curriculum design. In addition, she has also frequently presented papers on exemplary thematic units at ACTFL. Her devotion to teaching and incomparable talents in creating a communicative and interactive immersion class has inspired numerous learners to love learning Chinese language and culture and become life-long learners.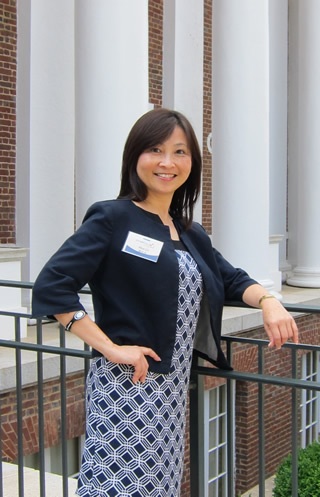 Practicum Facilitator
Alice Lin (钟良音)
Alice Lin is a returning teacher of the 2011 VSCTA program and has served as the practicum facilitator for the VSCTA program since 2012. She works closely with the master teacher, Yaching Hsu-kelkis, to ensure well-sequenced and effective curricular planning and implementation during practicum. She established the Chinese Language and Culture Program at both Valencia High School and Yorba Linda High School in Los Angeles in 2008-2009 and currently teaches at Valencia High School as a master teacher. She received her teaching credential in Chinese from the Credential Teaching Program at California State University at Fullerton and has participated in several STARTALK programs and other professional development workshops. She taught in the Southern California STARTALK summer Chinese immersion program from 2007-2009 and was the site manager in charge of onsite logistics and academics for the 2013 Los Angeles STARTALK Students Program.  
Technology Specialist
Henny Chen (陈恒良)
Henny Chen has taught at a high school level in the US for eight years after teaching Chinese language literatures in high school in Taiwan for 14 years. She is currently a Chinese teacher at Moreau Catholic High School in California. She holds a Master's degree in educational technology and has gained national and international reputation in instructional technology for teaching Chinese as a foreign language. Her voluntary services include, but are not limited to, serving as an adjunct Board member of the Chinese Language Association of Secondary-Elementary Schools since 2011, a voluntary project manager of the Huayu Digital Learning Center in the Chinese Culture Center of Taipei Economic and Cultural Office in San Francisco, and as the founder and president (2010-12) of Chinese Language Digital Teaching Association. She has passionately provided consulting work and conducted workshops in the US and abroad. Specifically, she has developed e-Learning courses and participated in a variety of world language education leadership projects such as STARTALK in UC Berkeley and IMPACT STARTALK program in Stanford University 2010-2011. Her most recent project involves creating technology tools focusing on the 21st century world language skills of collaboration, creativity, communication and digital citizenship.   
Lead Instructor, Student Program
Dr. Maan Broadstock (姜满)
Dr. Broadstock has been teaching all levels of Chinese up to AP Chinese at Centerville High School since 2006. She started to teach at the Dayton Chinese School and later established the Chinese program at Centerville High School. Maan currently serves on the board of the Ohio Association of Teachers of        Chinese (OATC) as the Technology Coordinator, the OATC Dayton/Cincinnati Regional Coordinator, a member of on the Chinese Advisory Committee of The Ohio State University Collaborative Articulation and Assessment Project to design a statewide Chinese proficiency test. She participated in the 2012 VSCTA program and stood out as one of the most excellent teachers. As a returning teacher, her familiarity with VSCTA's curricular requirements and STARTALK endorsed principles for effective teaching and learning ensures the success of the student program. Mann is also a master of tai chi, Chinese painting, and calligraphy, and she brings in a diversity of cultural activities to enrich the students' cultural immersion experiences. Her main responsibilities include collaborating with both the Master K-12 Teacher and Practicum Facilitator in the Teacher Program and the technology specialist to supervise and monitor the learners' progress in language learning and to design cultural activities in alignment with the curricular objectives for the student program.
Lead Instructor, Student Program
Wei Gao (高薇)
Wei Gao participated in the VSCTA in 2012 and will serve as the secondary instructor for the student program.  She has been teaching Chinese language and culture in Central New York area for over a decade. Currently, she is the Chinese language instructor for Manlius Pebble Hill School in DeWitt, NY. She is also teaching two elective courses on Chinese History and culture for middle school students. Ms. Gao received her Master's degree at Syracuse University. She has been a writer, editor, reviewer and project developer for several Chinese language books and magazines.  Between 2009-2011, Mrs. Gao worked as the sole program developer for NSLI-Y MPH China Immersion program, and she has also developed and led students in a six-week study abroad programs with funding from the U.S State Department.  Mrs. Gao is a member of professional association for foreign language teachers, such as ACTFL (American Council for Teaching Foreign Language) and NCTA (National Council for Teaching about Asia).  She has given numerous presentations on Chinese language and cultures at conferences and community workshops. Ms. Gao also has extensive experience in arranging international travel and cultural exchange opportunities between China and the United Sates.
Program Assistant, Teacher Program
Michelle Zeng (曾米璇)
Michelle Zeng is a rising third year double majoring in Commerce and Chinese. She will attend the McIntire School of Commerce this fall. At the McIntire School of Commerce, she would like to double concentrate in Finance and Accounting. During the school year, she is a mentor for Peer Advising Family Network and an officer for Asian Student Union. In the future, she hopes to pursue a career related to global commerce.
Program Assistant, Student Program
Virginia Long ( 龙薇 )
Virginia is a rising Second Year planning on majoring in either East Asian Studies or Chinese Language and Literature. She has always been interested in foreign languages and her experiences with UVa's Chinese and Korean language programs have been fantastic. This is her first job at the University and she is excited to have the opportunity to share this with fellow students interested in learning about Chinese language and culture!