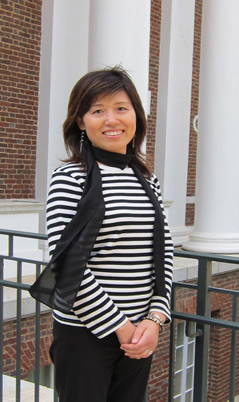 Xiaoli Doty
I feel very fortunate to be able to participate in the 2011 STARTALK Virginia Teaching Chinese as a Foreign Language program. I learned a lot from this program.
Dr. Miao-fen Tseng is a wonderful teacher, she provided a very encourage learning environment for us to grow day by day. She might be younger than some of us, but the way she took care of us was like a loving mother, she tried very hard to make sure everyone of us understood what she taught us, to show us our strengths, and help us with the parts we needed to work on. She is the one who was constantly making sure the program worthwhile and that everyone was benefitting from it. She even took care of our weekends, arranging trips to the mountains, karaoke nights, and even a visit to Thomas Jefferson's historical home.
Other co-trainers, facilitators did a great job and made a great team!
One of my favorite parts of this program was the Task-Based Language Teaching (TBLT). For years, I was looking for ways to get students involved in the classroom, and while I've collected tons of fun games, techniques, online resources, just to name a few, I still had a difficult time engaging my students. TBLT opened my eyes, now I have found a way to get students involved through TBLT: it's meaningful, and it connects with student's previous knowledge. TBLT can be tasks of the students, by the students and for the students.
And,
Here we are, more prepared, more confident, stronger! Better!!
Over all, it has been a great professional development opportunity and I wish I could come back again!